Tuesday, July 5, 2011 Post By: Grayne Wetzky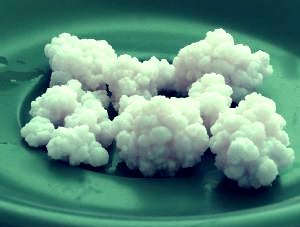 Kefir is a great drink. It has the unusual twin properties of being tasty and healthy. Best of all, it's quite easy to make your own if your local store doesn't carry it (or if you prefer to not pay through the nose for a little kefir fix).
Probably the hardest part about getting started with your own kefir making is to get your hand on some kefir seeds. Thanks to the convenience of the internet it is now easy to buy your own starter culture. The problem is that you don't really know the quality of the seeds you will be getting and there's little help to find if your kefir doesn't turn out the way you had hoped.
Traditionally kefir seeds were shared and spread between friends and neighbors. Since the kefir bacteria keeps multiplying when they feed on milk there was always enough to go around. This method is not viable today, especially in a place like the US where the kefir loving population is small and scattered. But even if your neighbors can't help you out with some left over kefir seeds, there are still ways to share kefir grains today.
Again the internet is your friend. A quick search will lead to several online communities built around sharing kefir seeds. Many will be happy to share grains and advice free of charge, but be mindful that there are many people that have made selling kefir grains into a business.
If you chose to buy kefir seeds from a commercial operation you should expect a decent amount of seeds and a guarantee that the seeds have been stored in milk and not water. Seeds that have been stored in water will take longer to start fermenting milk properly than seeds that have been kept in milk.
Another upside to picking a community over a commercial vendor is that it is usually a lot easier to get help and tips. Kefir sharing communities are passionate about spreading enjoyment of kefir and will be happy to offer insight and advice to new kefir converts.
No matter what you decide yoy should at least make sure that you are getting kefir grains or seeds. Some places advertise kefir in powder form. This is not real kefir grains and you won't be able to start your own kefir culture from powder.
With these tips you could soon be on your way to making your own delicious kefir. And if all else fails, I sometimes have spare kefir seeds I can share so if you are interested in trying your hand at kefir making, leave a comment or some way for me to contact you and I can help you get the seeds you need to get started.